New 3G Surface on Pitch 3 - April 2023
Reinvesting income from our customers, the Charity has been able to replace the 10 year old 3G playing surface on Pitch 3 with a brand new 3G surface. Having installed 3G across all three pitches in the early years of running the Centre, 2011 to 2014, it was decided that it was time to replace the oldest of the surfaces with new, aiming to maintain a high quality playing offering at the Centre.
WPIFC 2021 Newsletter - March 2021
News from our staff and trustees along with announcements celebrating our 10 anniversary and recognising the departure of our long standing staff member - Jim Nicholson.
To view or download a copy, located on our Resources web page - click here
JIm Nicholson Retirement - 2020
It is with much sadness that we record that our long time Duty Manager Jim Nicholson has retired. Many of you know Jim retired in late 2020 after (as legend has it) 40 years at Walton Park Leisure/Sports Centre. Jim no doubt saw many changes here and was instrumental in helping save the centre from demolition in 2008 and the establishment of the WPIFC Charity.
He was very well known and respected at the Centre often telling his tales of playing for Manchester United alongside George Best and Bobby Charlton, scoring at the Santiago Bernabeu. Playing for Northern Ireland over 40 times and captaining Huddersfield town, where perhaps in footballing terms he is better well known. Jim always spoke of "the lads" with great affection and was sad that he did not have a chance to say goodbye in person. Having started a go fund me page we raised over £1000. The donations that you all gave towards Jim's retirement is nothing short of amazing and we thank you so much for all your kind donations. It really shows how much of a community spirit is at the centre and is much more than just a place for people to come and play.
WPIFC introduce cashless only payment system - January 2020
WPIFC confirm the previously announced implementation of our cashless payment system. In future, only payments via cards (including Google/Apple Pay), direct bank transfers (at least 2 hours in advance of playing), cheques and PayPal will be accepted.
Since the Charity began trading in 2011 prices have not increased (only reduced), despite increased costs and significant investments in improvements to the facilities, including three new pitch surfaces, ceiling nets and down pipe obstruction removal.
Current prices are published on our home page.
If you wish to discuss any aspect of this policy, please contact our Centre Manager at the Centre or via email, details of which are on the 'Contacts' page.
The ongoing support by our customers for the Charity is greatly appreciated.
Major Pitch Improvements - January 2018
The Centre is delighted to confirm the completion of major improvements to the facilities at the Centre. Continuing the process of continual reinvestment of accumulated funds, the Charity has implemented:
The

removal of the drainage downpipes from Pitches 1 and 3

, which have historically been obstructions along one wall of each pitch. This significantly improves the playability for existing and new customers.
The

installation of ceiling nets

across all three pitches. This has major benefits, firstly, it protects the roof and gable panels from damage, but should also now prevent balls getting lost, stuck in the rafters.

Reduced Sunday morning prices!! - April 2016
The Charity, Walton Park Indoor Football Centre, is delighted to announce that the charges for Sunday morning bookings will be reduced from £37 to £25 effective 1 April 2016. This action by the Charity continues to deliver on our aim to provide affordable quality indoor football for Trafford, and other local community residents.

New Centre Manager - James Holmes - March 2016
The Trustees of Walton Park Indoor Football Centre are delighted to announce the addition of James Holmes to the Charity in the lead executive role of Centre Manager. James is passionate about sport, and comes with an MSc in Sports Business Management. We have confidence that James will lead the Charity to further exploitation of our Community facility and deliver further enhancements that will benefit our loyal customers along with attracting many new ones.

Walking Football at Walton Park Indoor Football Centre - May 2015
Following the work lead by our Trustee Dom McKenzie, trialling Walking Football at the Centre through April 2015, two groups have now been successfully established, on late Wednesday afternoons and Friday evenings.
If you are interested in trying out this new initiative, then you are welcome to contact the Centre and give us your details, which will be passed to the appropriate organiser.

Completed upgrade to 3G on all pitches - May 14
The Centre has achieved another major milestone since the transfer of the Centre from Trafford Council, to our Community run charity. Using the income generated from our customers, we have completed our investment in replacing all the historic astroturf surfaces, with latest generation 3G surfaces.
With the installation of Lano Sports NV Profoot Max 60mm monofilament artificial grass on all three pitches, the Centre continues to deliver on its objective of providing affordable quality indoor football facilities to the Sale and other local communities.
Childrens Parties at Walton Park Indoor Football Center - with Big Top Parties - Jan 14
The Centre is delighted to announce that we are now working with 'Big Top Parties' (www.bigtopparties.co.uk) to provide a range of
party options for children. Anything from a do it yourself arrangement, where the Centre can be booked for private use, through to a completely managed and catered for event.
To book the Centre, use our contact details provided on our home page, or contact Big Top Parties on 0161 478 8970 or 07843 208008 or via their web site for a comprehensive package taking all the effort out of a fun party.
Michael Carrick, Man Utd star - stars at Walton Park Indoor Football Centre - June 2013
Second 3G pitch at Walton Park Indoor Football Centre - May 2013
Walton Park Indoor Football Centre are delighted to announce that with the introduction of the second 3G pitch, two of the three indoor five a side football pitches now have high specification 3G surfaces provided by Lano Sports, the NV Profoot Max 60mm monofilament product.
Less than two years after taking over the operation of the Centre, the charity are delighted with the progress being made towards meeting our objective of providing a quality indoor football experience and affordable prices.
To ensure you book the correct pitch, please note that Pitches 1 and 3 have the 3G surface, with Pitch 2 having a generation one short pile turf embedded in sand.

Brian McClair welcomes new 3G pitch at Walton Park Indoor Football Centre
December 2012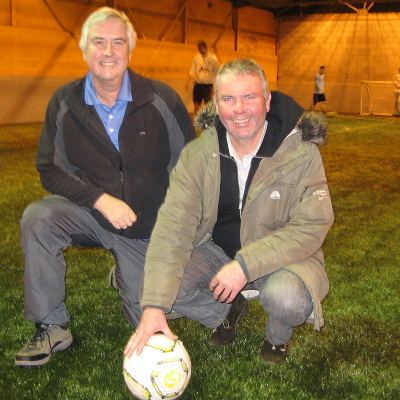 Brian McClair, ex player and Manchester United's Academy Manager, visited Walton Park Indoor Football Centre to celebrate the opening of the new 3G indoor artificial turf 5-a-side ptich.

Just over a year after taking over the operation of the long established indoor football centre from Trafford Community Leisure Trust, the new charity has been able to recycle income from users to replace the ageing surface on Pitch 3. A further step towards establishing Walton Park Indoor Football Centre as an affordable quality indoor football facility, at the heart of Sale.

The trustees of the charity were particularly pleased to invite Brian McClair, pictured with WPIFC's Jeff Staniforth, to celebrate the opening, given their appreciation of the assistance and guidance provided by the Manchester United ground staff at Carrington in support of the selection of the installed artificial turf (the Lano Sports NV Profoot Max 60mm monofilament product) and the optimum maintenance regime to ensure the new high quality surface is kept at the highest standard.

The charity is optimistic that continued investment in the centre will attract further customers to this valued community facility which only a few years ago was threatened with demolition.

New customers are welcome to initiate a regular block booking NOW. Why play in the rain, wind or snow - when you can play indoor at very reasonable prices.

Waitrose donation towards new 3G pitch for Walton Park Indoor Football Centre
Thanks to the customers or Waitrose in Broadheath, in early September Walton Park Indoor Football Centre received a cheque for £213 from Waitrose 'Community Matters' towards the replacement of our Pitch 3 with a 3G playing surface. Our thanks to Waitrose and their customers. The picture below, is our Jeff Staniforth collecting the cheque from Waitrose.